Kik boks je moderan borilački sport koji obuhvaća više sportskih disciplina, a to su:
Discipline u ringu:
Low kick
Full contact
K-1 rules
Discipline na tatamiju:
Light contact
Kick light
Point fighting
Musical forms
Kickboxing je nastao na osnovama boksa, karatea, taekwondoa, kung fua i drugih više ili manje poznatih orijentalnih ali i zapadnih borilačkih sportova. Osnovni cilj svakoga borca je nadvladati boljom tehnikom, brzinom i snagom svoga protivnika uz maksimalnu sigurnost, toleranciju, poštenje i čast svakog natjecatelja. Jednom riječju, Kickboxing je zapadnjački sport – jedinstven odgovor velikom broju istočnjačkih borilačkih vještina. Prva pravila kickboxinga početkom sedamdesetih je napisao gospodin Mike Anderson – Amerikanac.
Počeci kik boksa vezuju se za sedamdesete godine prošlog vijeka. Prvi koraci nastali su u Japanu, kao kombinacija nekoliko borilačkih vještina. Ubrzo je sport prihvaćen u Sjedinjenim Američkim Državama. Prvim kik boks mečom smatra se borba Džoa Luisa i Grega Bejnsa 1970. godine. Četiri godine kasnije održano je prvo Svjetsko prvenstvo u ful kontaktu. Prvi šampioni svijeta postali su Džo Luis, Bil Valas i Džef Smit.
WAKO federacija počela je sa radom u Evropi 1976. godine, a osnovana je 26. februara 1977. u Berlinu. Osnivač je bio Njemac Džordž Brunker, koji je promovisao prvi Svjetski šampionat u polu-kontaktnom karateu. Wako je potom definisao nova pravila i propise, uključujući tehnike udaraca rukama i nogama, za amaterske borbe, uz upotrebu sigurnosne opreme.
Ubrzo je ozvaničen naziv kik boks, kako bi se definisao sport i WAKO asocijacija počela nesmetano da djeluje.
Od 1984. do 2013. WAKO je predvodio Italijan Enio Falsoni. Nakon dvije godine predsjedavanja, Borislav Pelević iz Srbije, u novembru 2015. godine naimenovan je za predsjednika WAKO federacije. Preminuo je 25. oktobra 2018. Privremena predsjednica bila je Italijanka Frančeska Falsoni, sve do 2. februara 2019. kada je za novog čelnika WAKO izabran Roj Bejker iz Irske.
WAKO danas broji 129 zemalja članica sa pet kontinenata, sa više od 4.000.000 takmičara u preko 40.000 klubova širom svijeta. WAKO Svjetska prvenstva se održavaju svake druge neparne godine, a WAKO Evropska prvenstva svake druge parne godine (u svih sedam disciplina).
U Kickboxingu se koristi maksimalna lična zaštitna oprema koja se sastoji od kacige (koja pokriva tjeme, bočni dio glave – uši i zatiljak), štitnika za zube, štitnika za prsa (za djevojke), štitnika za spolne organe, rukavica (otvorene i zatvorene 10 Oz), štitnika za potkoljenice te papuča (bez đona). Sigurnost svakog natjecatelja je gotovo zajamčena i slobodno se može reći da su povrede u ovom sportu vrlo rijetke, a ako su prisutne onda se najčešće događaju u tzv. tvrdim disciplinama full contactu, low kicku i thai kickboxingu i to u profesionalnom dijelu. Najčešće se tu radi o plavicama, a tu su i povrede – ozljede nosa i arkade. Što se "profesionalnih" borbi tiče, radi atraktivnosti, zaštitna oprema je reducirana, pa se u svim disciplinama ne nose kacige i štitnici za potkoljenice.
WAKO je zvanično priznat od strane: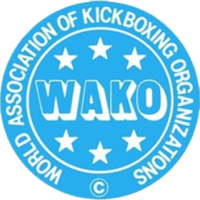 OC (International Olympic Committee) – od 30. novembra 2018. godine
GAISF bivši SportAccord (Global Association of International Sports Federations)
IWGA (International World Games Association)
ARISF (Association of IOC Recognised International Sports Federations)
FISU (International University Sports Federation)
WADA (World Anti-Doping Agency)
CIFP (International Fair Play Organization)
OCA (Olympic Council of Asia)
IWG (International Working Group of Women in Sport)
Peace and Sport